Rock music used to dominate the entire world at a certain period of time. Hard rock and metal songs are still popular but not as much as in the past. During the early ages, Rock songs and albums used to dominate the entire world. None could compete against those songs. The decade, 1970 was the best year for rock music.
A lot of rock and metal bands were formed and came to rise that year. Along with that different rock songs were classified into multiple genres such as heavy metal, soft, punk blues, and glam. If you want to the greatest rock bands of the 1970s, we'll help you out. The article below consists of the best rock bands of the early 70s. So, here it is!!
1. Led Zeppelin
Coming from the Capital City of England and the United Kingdom, Led Zeppelin is an English rock band who are known worldwide as one of the best rock band.
The band members originally called themselves, New Yardbirds but changed after some period of time. This band consisted of four members and all of them primarily sang hard rock, and heavy metals and drew their ingenuity from the blues.
This band has numerous amusing songs and some of them were even ranked in the top seven in various nations. In fact, their "Led Zeppelin IV" album was released in 1971's got regarded as one of the best sellers as it sold 37 million copies of it.
2. Pink Floyd
Pink Floyd was undeniably the most loved band that captivated the hearts of all rock song lovers. This band got formed in 1965 and was run under various names. The lead singer of this band, Waters came up with new ideas that played a great role in the huge victory of success of their songs and albums. Pink Floyd came up with the greatest rock music of all time and some of the most popular albums were "The Walls" and "The Dark Side of the Moon" released back in 1979's. In fact, the band also introduced a musical film that successfully achieved two British Academy of Film Awards.
3. The Rolling Stones
Supported by the greatest achievements, The Rolling Stones were the ones who caused an uproar all over the world with their addictive rock songs. Being one of the fewest wave-rock bands, this British band managed with the flow of new rock culture, they also started to do hard and nasty blues-inspired rock along with the ache of country rock. Despite the contemporary standard being pop and hard-rock, The Rolling stones managed to become more polished throughout the past years and trained under diverse styles while still the approach of their blues-rock.
4. Black Sabbath
Formed with four members back in 1968, Black Sabbath was a band that succeeded to impress a lot of audiences all over the world with its amusing songs. In heavy metal, this band was considered among the top pioneers. With the remarkable vocals of their lead singer Ozzy Osbourne, this band produced the best of the best hard rock songs. The songs of this popular band commonly present dark but jaw-dropping use of lyrics in minor keys. No wonder why this band is ranked among the best, it had perfect guitar work that suited the attention-grabbing song themes and insane bass. The song that Black Sabbath created presented key elements that beginner to get embraced in the heavy metal genre that only rose up later.
5. The Who
The renowned British band, The Who is one of the best bands of the 70s without a single doubt. This band was formed in London with four members who were exceptionally skilled individuals. The music released by this band was stimulated by English culture but it evolved with cultural changes. Their first album during the '70s got all of their fans mesmerized as it was a perfect mixture of rock and roll, hard rock, and folk. It presented amusing lyricism and composition of the music that led it to be insanely popular worldwide. There is a very good reason why this band is ranked among the best rock bands. It is because The Who produced beautiful songs with perfect guitar works, complex rhythms, and fascinating lyrics which pointed out the exact issues caused during that period of time.
6. Deep Purple
One of the remarkable bands formed in London, Deep Purple is an English rock band that was favored by millions of people for their amazing music. This band started its musical journey in 1968 with five members and succeeded to earn a massive audience in a very short amount o time period. This band was often appreciated for its hard rock songs. The music of this band mostly presented twisted electric organs, wailing drums, and complex guitar-like and highly-pitched vocals. The album released by this band was named "Deep Purple in Rock" in 1970 which was quite hard rock with few involvements of progressive rock. Later on, they produced Machine Head, an album that became popular worldwide because it was pure rock and came to be renowned as their most loved album. Then, the band came up with more amusing albums of the same kind which became a huge success for them.
7. The Eagles
Formed back in 1971, The Eagles were the band from Los Angeles and has been one of the most loved ones since the early 1970s. As they were appreciated all over the world for their music, they succeeded to win various awards such as six Grammy Awards and five American Music Awards. This rock band earned a huge amount of fans and gained fame which encouraged them to produce more rock songs. The first album of the band, Eagles was surprisingly successful with two singles "Take it Easy" and "Witchy Woman" that got renowned as the top 20 singles in the United States of America and Canada. "The Greatest Hits" of 1976 was the best-selling album of The Eagles which sold 38 million of its copies all over the world.
8. Kansas
Got renowned during the 1970s, Kansas is an American rock band that became widely popular throughout the world for its rock-oriented album songs.Inspired by boogie and classical rock, this band was a progressing rock band that succeeded to grab the attention of millions of rock song lovers. Accompanied by electric guitar solos, sweet symphonies, and heavy synthesizers, this band produced amusing music during the 1970s. They used to have harmonic melodies and great anthems and released mesmerizing but complex songs. However, they were originally a hard rock band and later on switched to mellifluous developing rock songs within a few years. They were undoubtedly one of the greatest rock bands that represented the state of Kansas, United States.
9. Yes
Launched in 1968, Yes is a progressive rock band that was formed in London. Since they started their journey, they came to be renowned as the finest rock bands. Yes were very smooth and proficient and shifted from their '60s freaky rock. The "Yes" album from 1971 of this band demonstrated that they have amusing music and lyrical expertise and they succeeded to release more tasteful songs. "Fragile" was the first album released by this band which presented jazz and classically influenced music. As they released albums like "Closer to the Edge" and "Relayer", they got more into progressive rock songs. Yes, earned millions of fans in a short amount of time as they skillfully released multiple rock songs that led all of their listeners to go crazy.
10. Bad Company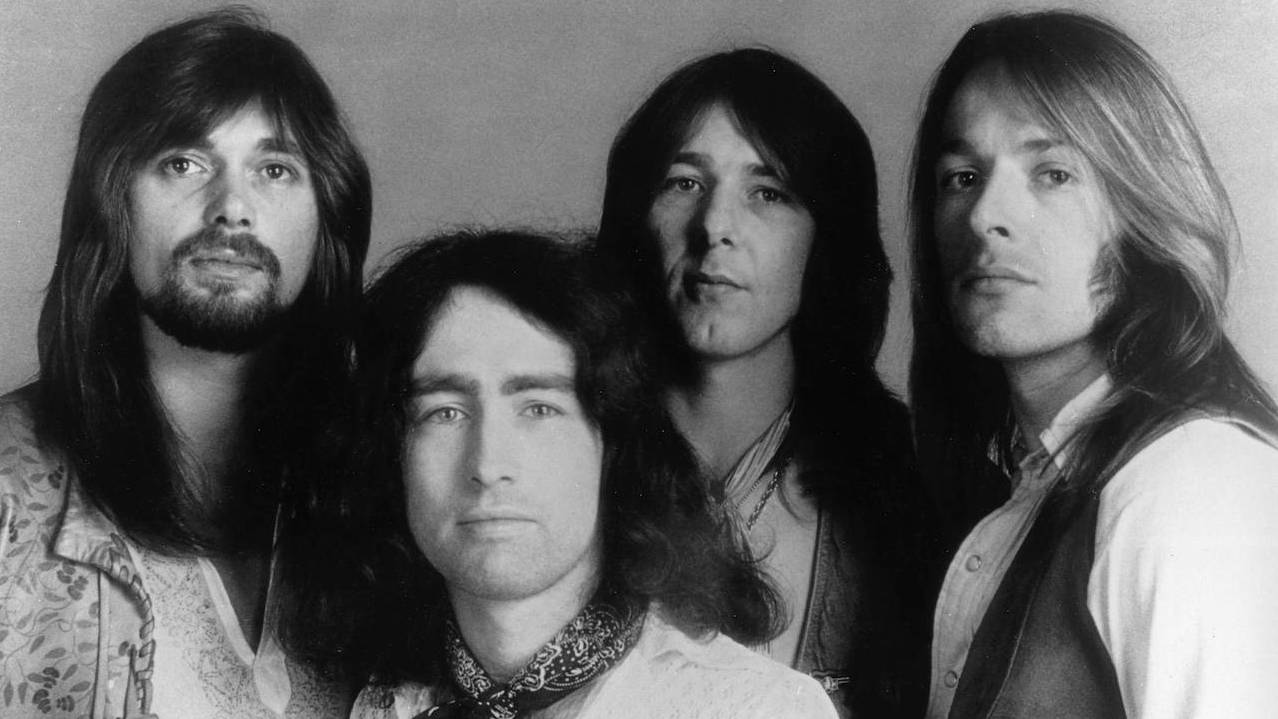 Coming from the Westminister, London, Bad Company is a band that presents English hard rock and blues-rock songs. In 1973, this band was formed by Mick Ralphs and Paul Rodgers who were joined by Simon Kirke and Boz Burrel later on. Because of the amusing songs released by this Bad Company, it achieved immense success with the first three albums which got the position of top 3 in the United Kingdom and the United States of America. As they continued releasing more and more rock songs, they gained a humongous amount of fanbase. Their songs were so popular that the best-performing songs of this band are still played on classic radio now, along with Shooting Star, Ready for Love, and Bad Company.
11. Lynyrd Skynyrd
Majorly inspired by blues, country, rock, and roll, Lynyrd Skynyrd is an American rock band that was formed in Jacksonville of Florida. This band was originally created as My Backyard. This band was primarily inspired by blues, county, and rock and roll. They succeeded to produce the greatest music in the history of rock songs with amusing guitar patterns and unforgettable jams. The most loved album of this band is "One More from the Road". Lynyrd Skynyrd also formed a live band in which all of the members of the band polished in various ways by advancing their skills along with their Southern sound in its original form. This made created fascinating transitions from hard rock to slow country melodies that gave an impressive crispy sound to their songs.
12. Fleetwood Mac
A British-American rock band, Fleetwood Mac was one of the most popular bands that were formed in 1967 in London.
However, they moved to the United States of America in 1973. Before Danny Kirwan and John McVie joined the band, Peter Green, Mick Fleetwood, and Jeremy Spencer formed Fleetwood Mac.
This band founded the original sound in the mid-70s since they tried to achieve it from the early 70s.
Because of the impressive ability of the songwriter, Steve Nicks, the band successfully managed to come up with many pop-rock songs with the faint trails of the country that led them to gain the support and love massively for other prosperous songs.
13. Rush
Formed in Toronto in 1968, Rush is a Canadian band that is one of the most renowned bands throughout the world that used to perform hard rock songs and later switched to a progressive rock band.
This band was formed by John Rutsey the Drummer, Guitarist Alex Lifeson, and bass guitarist and vocalist, Jeff Jones who got replaced by bassist Geede Lee after some period of time.
The second and third album of this band was more appreciated than the first one. With their amusing skills of creating rock songs that had their own precise vibe, Rush undeniably became one of the most loved bands in the world.
An Album named "A Farewell to Kings" was the best album they ever released.
14. Genesis
An English Rock band that got formed in 1967 at Charterhouse School, Godalming, Surrey, Genesis ame to be the best among the Rock bands.
As they released their first album in 1970, it became massively hit and gained a massive fanbase.
Unlike other bands, Genesis was very unique as they incorporated folk music and also turned nursery rhymes into rock music. As Kevin Hackett joined the band, the amusing vocal of lead singer, Gabriel led to the sudden rise of this band. Each and every individual in this band has played a vital role in the success of band. Every album released by this was totally remarkable.
15. Soft Machine
Formed by talented artists like Robert Wyatt, Kevin Ayers, David Allen, and Mike Ratledge, Soft Machine is an underrated rock band that has it's own influence among millions of people now. The main influence of this bad was jazz style as they leveraged psychedelic rock. Sticking to the rock genre, the band used to have the tones of Saxophone and relaxing jazz in their music. Some of the songs by Soft Machine are underrated that are almost impossible to reproduce. The third album of this band was the most loved according to ro the review of tons of people.
16. Queen
Queen, is the most successful rock band of all time. This band is so popular that there might be only a few people in the world who haven't heard their names. The band gained massive success as the lead singer, Freddie Mercury was one of the best male singers. He was exceptionally talented and also used to play piano against Brian May the guitarist, Roger Taylor on the drum, and John Deacon on the bass. The band released various albums that got massive success and got drastically popular during the 70s. The last album of this band was a combination of pink with rock which made the song more fascinating.
17. Kiss
Kiss is an American rock band formed by Paul Stanley, Gene Simmons, Peter Criss, and Ace Frehley. This band originated in 1973 in New York City. This band was renowned for its amusing stage performance and originality. To produce marvelous music, Kiss indulged their music with metal and Hardrock and it even succeeded. Even the guitarist of the band, Freshly released different solo music as he was surprisingly talented. The interesting fact about this band is that all of the band members of Kiss were peculiar on their own and were regeared as the first band ever to perform on stage with Outerspace makeup and customs. The kiss was also represented as "the free spirit of rock n roll".
18. UFO
In 1968, the greatest English rock band UFO was formed in London after the likes of Deep Purple, Led Zeppelin, Black Sabbath, and Hendrix. This British band started its journey as a space rock band but as Michael Schenker joined them as their lead guitarist, they decided to move into solid hard rock. UFO became popular all over the world as one of the most appreciated rock bands because of its perfection in lyricism, guitar work, and astonishing melodies. When Schenker was still in the band, UFO released numerous remarkable albums like "Revolutionary" and "Strangers in the night". The fascinating rock music albums released by this band are the reason why UFO came to be regarded as one of the best rock bands from the 70s.
19. Roxy Music
Roxy Music is a band that once dominated the entire world with its fascinating rock music. This band was formed in 1970 by songwriter/chief singer, Brian Ferry and bass guitarist Graham Simpson. As they were quite a popular band, their music was unique because it was wild, experimental, and fun with the fine use of keyboards and guitar skills. They favored their song to be simple while maintaining it as interesting and indigenous. This is the reason why the albums released by them were totally catchy. Roxy's music band was exceptional and released numerous songs along with varieties of subgenres, progressive, rock and roll, blues, jazz, and funk. All of the band's members were crazy and wild which caused them to come up with remarkable rock songs resulting in their becoming popular all over the world.
20. King Crimson
A progressive rock band with the most appreciated rock songs and album, King Crimson was formed in London, England in 1968. This band is also considered the pioneer of a progressive rock band. They formed music in jazz/fusion and psychedelic subgenres as they were experimental bands. What made their song more catchy is that by the use of Saxophones and flutes, King Crimson integrated classical elements into their songs and albums. This band succeeded to make other progressive rock bands release new rock albums following them.
21. The Stooges
Originally billed as the Psychelic Stooges and popularly renowned as Iggy and the Stooges, the stooges is an American rock band that was created in Ann Arbor, Michigan during 1967. Guitarist Ron Asheton, drummer Scott Asheton, singer Iggy pop and bassist Dave Alexanser are the ones who formed The Stooges. Being one the greatest band in the history of rock, this band came up with various songs along with different genres like hard rock, punk rock, psychedelic rock, garage rock, proto-punk and many others. As this band was popular all over the world for its amusing rock music, they sold tons of copies of their album.
22. Aerosmith
Formed in Boston of America, in 1979 Aerosmith is an American Rock band that gained huge success in the history of rock. The major style of this band was blues rock and glam rock. Joe Perry, Joey Kramer, Steven Tyler, Brad Whitford, and Tom Hamilton were the members of this band. Accompanied by the amusing skills of all of the band members, Aerosmith used to present RnB, glam metal, heavy metal, and pop-rock. According to the majority of the audience, they used to be known as the greatest rock and roll band and no one can deny that fact. As they released numerous songs that grabbed the attention of millions of people, Aerosmith won multi-platinum awards and was presented on the Hot 100 Singles, along with "Walk this way" and "Dream on".
23. The Allman Brothers Band
Formed in Jacksonville Florida back in 1969, The Allman Brothers is an American band that has been known all over the world for their astonishing rock songs. The duo brothers, Duane and Gregg Allman along with Berry Oakley, Dickey Betts, Jai Johanny"Jaimoe" Johanson, and Butch Trucks were the members of this band. A live album named "At Fillmore East" that was released in 1971 helped them a lot to break into the rock industry. This album presented mesmerizing songs such as "In the memory of Elizabeth Reed" and "Whipping Post". Duane Allman died in 1971 and the band came up with "Eat a Peach" as tribute. This led the band to gain massive popularity and they started to continue releasing various great-class rock songs albums for years.
Who is the best 70s band of all time?
Tons of bands came to rise in the 70s but the title of best rock band of that decade would be Led Zeppelin
What bands dominated the early 70s?
Simply, Fleetwood Mac, Led Zeppelin, and The Rolling Stones were the major rock bands that dominated the 70s.
Which five bands were successful in the 1970s?
The five successful bands that succeeded during 1970 are:
Pink Floyd
Queen
AC/DC
Led Zeppelin
Fleetwood Mac
They are the most selling bands of all time but not just in 70s but still now, which created huge impact in the world of rock music. These bands helps to revolutionized the way singing and listening the music.